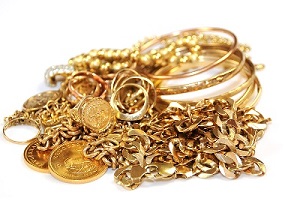 What you need to know BEFORE you sell your gold:
Is the Gold Buyer an accredited appraiser of precious metals?

Will the Gold Buyer give you a written estimate for your Gold?

Is your Gold Buyer well established and are the reputable?
At Falls Jewelers, when we are buying gold we are very careful to determine what the gold content is for each piece (10 karat, 14 karat, 18 karat, Platinum) and we then weigh each piece and calculate the price per the price of gold on that particular day.
We do not mind looking at all types of rings, pendants, earrings or any type of metal to determine if it is gold. So bring all your metal in for our experts to let you know how much it is worth.
With gold trading as high as it is, you can walk away with a lot of money for a small amount of gold! We also buy silver jewelry and some diamonds depending on the shape they are in.
Feel free to call us with any questions and/or come in and let us make you an offer!