Antwerp Diamonds
Diamonds from Antwerp, Belgium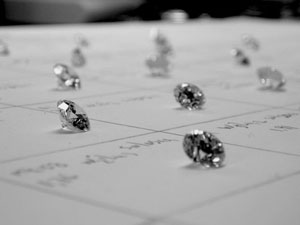 Every year, Falls Jewelers travels nearly 10,000 miles to hand-select diamonds in Antwerp, Belgium for our customers back in North Carolina. With our connections overseas, we are able to cut out the middleman, and save money in the process. With this elite service, we extend these savings to our customers, and are able to get the best selection of diamonds in the world. Antwerp, Belgium is where 60-80% of the world's diamonds are cut and traded, and is known as the "Diamond Capital of the World." We proudly comply to the Kimberley Process, which prevents conflict diamonds from entering the diamond trade, and by doing so, we are able to import conflict-free diamonds into the United States.
why antwerp?
Whether you are looking to get engaged, celebrate a milestone anniversary/birthday for your spouse, or simply wanting a beautiful, hand-picked diamond at an excellent price, our annual trip to Antwerp is the perfect opportunity for you! Check out the video below to see why getting an Antwerp diamond is an experience like no other.
our NEXT TRIP is 9/28/19 - 10/4/19!
Book your appointment today:
---
antwerp customer testimonials
"I was fortunate to receive the first diamond Sam ever purchased in Antwerp. I remember [Sam] calling my husband and I at 2:30 in the morning because he was so excited about the diamond he found for us that was absolutely stunning and at a very reasonable price. I wouldn't trust anyone but Sam to handpick a diamond for me. He is a man of character and a very trusted friend and jeweler. I truly felt that Sam handpicked my diamond as if it were for his own wife, Jane. My diamond is gorgeous, and I am very, very pleased with it!" - Shelia Morton