Engagement Stories
Engagement Stories
July 2019: Meet Taylor and Winslow!
THE LOOK: This beautiful couple first met over Facebook. They began as one of those "friends-you-know-you're-friends-with-but-you-really-aren't-friends-with-them" until Taylor messaged Winslow out of the blue. After that, the two of them went on what would become their last first-date, and the rest is history!
THE PROPOSAL: Taylor and Winslow had "a spot" in Blowing Rock that the two of them visited frequently while they were dating. It was the first place that the couple explored together after they started dating in January 2016. The two of them set out for another day-date to their spot on a hot day in July, and this time, the date would end a little differently than any other time before ... When Taylor and Winslow made it to the top of the observation tower, Winslow was taking in the sights when Taylor called her name and told her to turn around. Little did she know, Taylor was on one knee with both of their families behind him to pull off the ultimate surpise engagement!
THE RING: Winslow searched many engagement ring styles and fell in love with a simple, solitaire-look highlighted by a vintage twist. After looking online and many different places, she found "the one" in our showcase and knew at that moment that the search was over! Taylor did the rest, chose the perfect center stone, and voilà!
---
June 2019: Meet Jake and Jade!
THE LOOK: Jake and Jade started as family friends, turned into high school sweethearts, and now will live happily ever after together! "Our fathers were really good friends in high school and have been family friends ever since. Jake and I knew of each other, but didn't become friends until high school," said Jade. As a sophmore, Jade's best friend convinced her to go on a date with Jake and the two instantly shared an unbreakable bond. Now 7.5 years later, Jake finally popped the question in the most adorable way possible!
THE PROPOSAL: "Jake bought a house and remodeled it, and I had no idea," said Jade. "It was valentine's weekend, and I was home from school, so we went to dinner and then he blindfolded me on the way home. When he took my blindfold off, I was standing inside our new house! After walking around and looking at the house, [Jake] opened the door and yelled for our dog, Beau. Beau carried the ring box inside the house, and [Jake] was on one knee!"
THE RING: Jake was able to find out exactly what Jade liked with a little help from his momma! "His mom and I were out shopping one day, and one of her diamonds was loose in her ring," said Jade. "We stopped in Falls to have you guys fix it. While we were there, she said, 'What type of ring do you think you like?' I tried on a couple, and found that I liked the cushion halo [with a round diamond in the center]! Little did I know, his mom immediately called you all back after we left and said, 'Write that down so we remember!' [Jake] designed and picked out the rest!"
---
February 2019: Meet Joy and Brittany!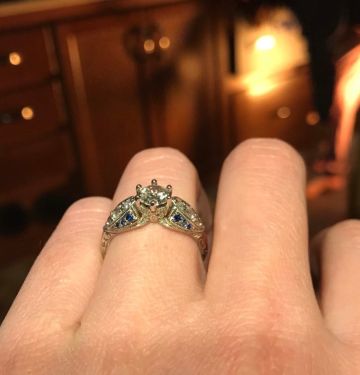 THE LOOK: This lovely couple first met through one of the popular dating-apps, Tinder. "[It was a] happy ending for those skeptical of dating apps," said Joy. The two enjoyed their first-date at a Charlotte Knights baseball game, and little did they know at the time, this first memory together surely wouldn't be their last. Joy and Brittany hit it off with a few ballpark brews, hot dogs, and nine innings of baseball that night, and the rest is history!
THE PROPOSAL: "I borrowed my parent's RV and we took our dogs to Asheville for the weekend," said Joy. "We were supposed to go hiking but it turned out to be the coldest weekend Asheville had, so we couldn't do that. Instead, we went to The Grand Bohemian hotel bar for a drink and small plates. We left there and went to The Montford Roof Top bar, where I was waiting for the sun to set. Because it was SO cold and windy, no one was outside which made it perfect and intimate for the proposal. I convinced her to go outside for a few selfies as the sun was setting…that is when I got down on one knee and asked her to marry me. She was completely shocked and surprised! She had NO idea that any of this had been planned. We finished our drinks inside the warm, cozy rooftop bar, then headed to our dinner reservations at Chestnut. I also had 8 of our closest friends meet us the next morning for brunch and an engagement celebration. [The brunch] was also a surprise to her and it all turned out perfectly!"
THE RING: Joy -- "Britt has always said she wanted something of her mom's as her ring. Her family lives in Boston so it wasn't easy to find the right piece of jewelry. Her mom and I sent numerous texts with pictures back and forth, and on a family vacation to Charleston, her mom gave me one of her rings, which her dad had given her mom years ago. I used those 2 diamonds and the baguettes in the engagement ring. She also loves sapphires (which is her birthstone), so I made sure to add those too!"
---
April 2018: Meet Matt and Alyssa!
THE LOOK: This lovely couple first laid eyes on each other at a Slip 'N Slide water park in New York where they attend college at Clarkson University. Shortly after, they began dating on their favorite holiday, St. Patty's Day, in 2015.
THE PROPOSAL: Alyssa works in Uptown Charlotte, where the big announcement took place. Matt reached out to Alyssa's boss and had her set up a fake meeting for a Friday morning on April 6th. During this "meeting," Alyssa was taken on a scavenger hunt at her work that ultimately ended in the lobby of her office building. To her surprise, Alyssa's sister was outside standing beside a horse drawn carriage where Alyssa was instructed to get in. After a short ride, Alyssa was brought to Romare Bearden Park where Matt was anxiously awaiting his soon-to-be-fiancé with a red rose and a gorgeous diamond ring!
THE RING: Matt knew that Alyssa really liked the styles and looks of Gabriel & Co.'s engagement rings, so he made note of her favorite characteristics of three different styles and meshed them all into one perfect ring! Alyssa's custom-made ring contains a stunning round brilliant diamond surrounded by a halo of diamonds as well as diamonds down both sides of the shank. It truly is a beautiful rock!
Congrats, Matt and Alyssa!
---
April 2018: Meet Nathan and Sydney!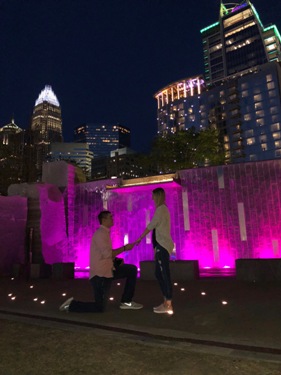 THE LOOK: Nathan and Sydney aren't your typical high-school sweethearts… they go back to the middle school days! This lovely couple first met in 6th grade at Corriher Lipe Middle School where their lockers were located side-by-side. From the very first day, Nathan and Sydney instantly became friends. They began "dating" in 8th grade, but the middle-school relationship didn't last. Fortunately, the two remained great friends in high school and began seeing each other seriously in March of 2012 during their junior year. Since then, Nathan and Sydney haven't look back.
THE PROPOSAL: The evening of April 14th began as a normal evening for Sydney. She thought her and Nathan were simply going out-to-dinner and then heading out to a party later that night. However, Nathan headed toward Charlotte after their meal, and Sydney had no idea why. He explained that he had a few places he wanted them to go to before the party that night. Little did she know, her life was about to change forever! Nathan took Sydney to Romare Bearden Park where the two of them walked around for a bit. When the time was right, he suggested they take a quick picture, and he pulled out a ring, got down on one knee, and asked the girl of his dreams to marry him.
THE RING: Nathan did his homework and gathered ideas on what Sydney liked for an engagement ring during the past few years of their relationship. He knew she loved an oval-shaped diamond, and wanted something that accented an oval beautifully. With some help from his grandmother and sister, he picked out a beautiful white gold diamond engagement ring with a gorgeous oval diamond surrounded by a halo of round brilliant diamonds. It looks incredible!
Congrats, Nathan and Sydney!
---
April 2018: Meet Zach and Courtney!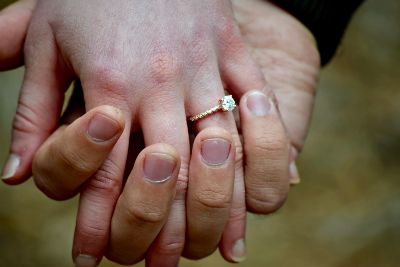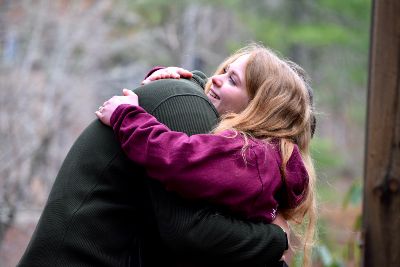 THE LOOK: Zach and Courtney first laid eyes on each other at Mt. Olivet United Methodist Church in Kannapolis during the summer of 2014. It was the church Courtney and her family attended and Zach was the new Youth Director at the time. "She was beautiful, and I noticed her right away, but she was also very shy when we first met," Zach said. The two began officially dating when they ate lunch together one day Park Road Soda Shop. Coincidentally, a few of the youth in the youth group Zach led at the time also decided to eat lunch that day. And as you can imagine, the gossip amongst the youth sparked quickly that Zach and Courtney were on a date, and little did everyone know at the time that it would lead to something even more special!
THE PROPOSAL: Courtney -- "We both were chaperoning a youth retreat at Camp Tekoa in Hendersonville, NC. I have been chaperoning at Camp Tekoa since my sophomore year and had a crush on Zach at that time. I really hoped he would ask me out after that first trip, but it did not happen until later. Over the past year and a half that we have been dating, we have realized how much we were meant to be together. This past weekend, he decided to pop the question. This happened in front of the our youth group and other camp attendees that were observing from afar as Zach asked me to marry him at the foot of the camp's cross. My two best friends, Allison and Anna, were there to take pictures as well as Kaiti, another chaperone from our church. It was so special hearing the youth and camp cheer us on when Zach proposed. That was such a special moment for us both, because the youth is what brought us together. I am so glad they got to be a part of this special day."
Zach -- "Camp Tekoa is a special part of mine and Courtney's history together. We first got to know each other while on our first trip there three years ago. She has chaperoned the trip every year, and it's been joy of mine to see her interact with our Youth group and love them so well. I knew it would be the perfect place for an engagement. I planned the event for several months prior to the trip, including purchasing the ring, arranging for her friends to arrive and take pictures, and coordinating with the other youth leaders to allow our group to witness the moment. There is a sacred spot at Camp Tekoa on the side of a hill, complete with a campfire and a large wooden cross. I determined that to be the ideal spot for me to ask for her hand. When the moment finally came, she was so completely surprised! I could not have wished for it to go any better. It will be a moment we will cherish forever!
THE RING: Zach conducted the perfect investigation to find out exactly what Courtney liked in an engagement ring. With a little help from two of Courtney's friends, Zach found a link to Courtney's Pinterest account, and from there, he was able to see what kind of ring she liked. Being the gentleman that he is, Zach invited Courtney's parents as well as his mother to come in to help pick out the perfect ring for Courtney. He first chose the mounting, then the center stone, and the rest is history! "The fact that he [Zach] chose the ring himself makes it so much more special," said Courtney. "It is so beautiful and unique. I have gotten many compliments on it!"
---
August 2017: Preston and Carter!