Custom Design
Custom Design
Here at Falls, the sky is the limit when it comes to custom designing beautiful jewelry! By using CAD (computer-aided design), we can take any image, drawing, or idea to custom make a one-of-a-kind ring, pendant, bracelet or set of earrings just for you.
We team up with Malakan Diamond Co., one of the leading CAD design companies nationwide, to make dreams become realities for our customers who desire unique, custom pieces of jewelry.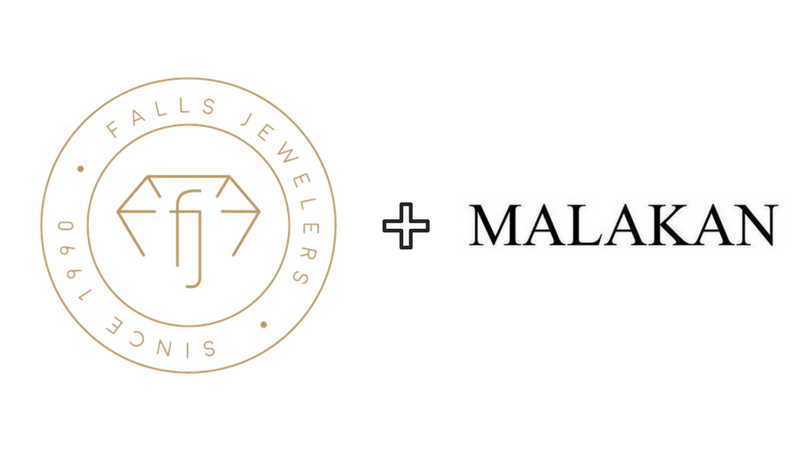 The custom design process
I) Initial concept
The first step simply begins with an idea. If you can dream it, we can surely create it.
Bring in any image/drawing of any piece of jewelry, and we can transform it into a treasured showpiece that will last a lifetime. If you don't have a starting point, don't sweat it; we'll help you get your thoughts sketched out on paper.
II) CAD PROCESSING
Once a concept is created, the CAD process is started. Malakan Diamond has more than 150 CAD designers on staff and provides a 24-hour turn around time for all custom jobs. After we receive the 3-D CAD video of your custom piece via email, we send it directly to you or have you come in to go over it with you in person.
Any number of tweaks or changes can be made to your piece at any time during this stage in the process in order for us to nail down your perfect design. Whether the CAD of your piece is exactly what you want the first time or the tenth time, we promise to take each step with you until we reach perfection.
III) CASTING
The third step in the process is the actual casting of your piece. Malakan does a phenominal job of raw casting in any metal you desire (sterling silver, white gold, yellow gold, rose gold, or platinum). A raw casting is simply any piece of jewelry that is formed by pouring molten metal into a mold. When cooled, it is pulled from the mold and is considered to be in the "raw casted" phase, meaning it is rough and unfinished.
Next, Malakan sends us your piece, where we finish up the process here in our store.
iv) Stone setting, Polishing, cleaning
In this stage of the process, your unfinished piece is perfected in every way.
Any stones in your piece are set one by one. Whether its in a prong, channel, pave, or bezel setting, our jeweler is capable of making sure your stones are secure, set evenly, and give off the most brilliance possible.
Once your stones are set, the finish is put on your piece. The most common finish is high-polish, but our jeweler is capable of also doing brush, sandblast, hammer, swirl, and satin finishes.
The final step of the process is a deep cleaning of your piece. All jewelry is cleaned in our ultrasonic cleaner, electrolytic cleaner, and steamed with our high-powered steamer. All white gold pieces are also rhodium-plated as well. Each of these steps in the cleaning process ensures your custom piece has the perfect showcase finish.
example: Three-stone custom engagement ring
A beautiful example of the custom design process is illustrated in this custom three-stone diamond engagement ring.
Our customer wanted a classic, three-stone engagement ring with a touch of modish design. He had three diamonds of his own that he wanted to use as the main three stones in his ring.
In terms of style, he wanted to have this same three-stone look (below) but with a cushion-shaped halo only surrounding the center diamond. He also did not want any diamonds going down the shank.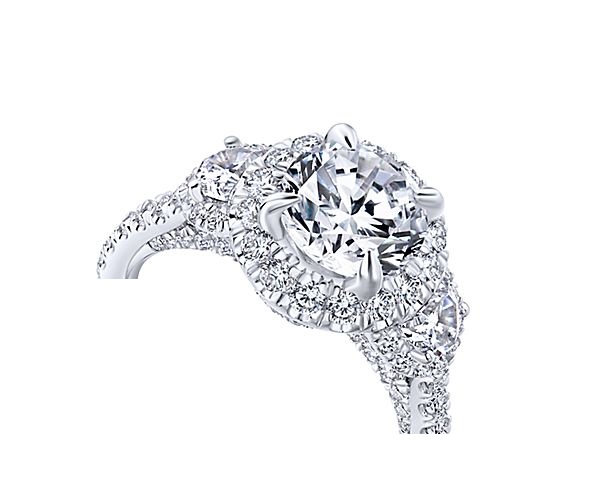 Additionally, the customer wanted a similar design in the profile of the ring shown below:
In terms of metal, the customer wanted to use his own 14K yellow gold from his grandmother's ring to give his own custom ring even more sentimental value. We decided to have the ring casted in yellow gold and have the heads casted in white gold to help the diamonds be as white and as brilliant as possible.
Next, after we gathered the measurements of his three diamonds, we sent over detailed information to Malakan for them to begin the CAD processing. Within 24 hours, we received our customer's CAD design shown below:
The customer was thrilled about the CAD of his custom ring. However, he did recommend one change that was easy to fix. He was a bit concerned with the two-tone look of the ring due to the yellow gold shank and all three of the heads being in white gold. Therefore, we decided to take a look at how the ring would look with only the center stone being in white gold with the two side-stone heads being in yellow.
Take a look at the change below: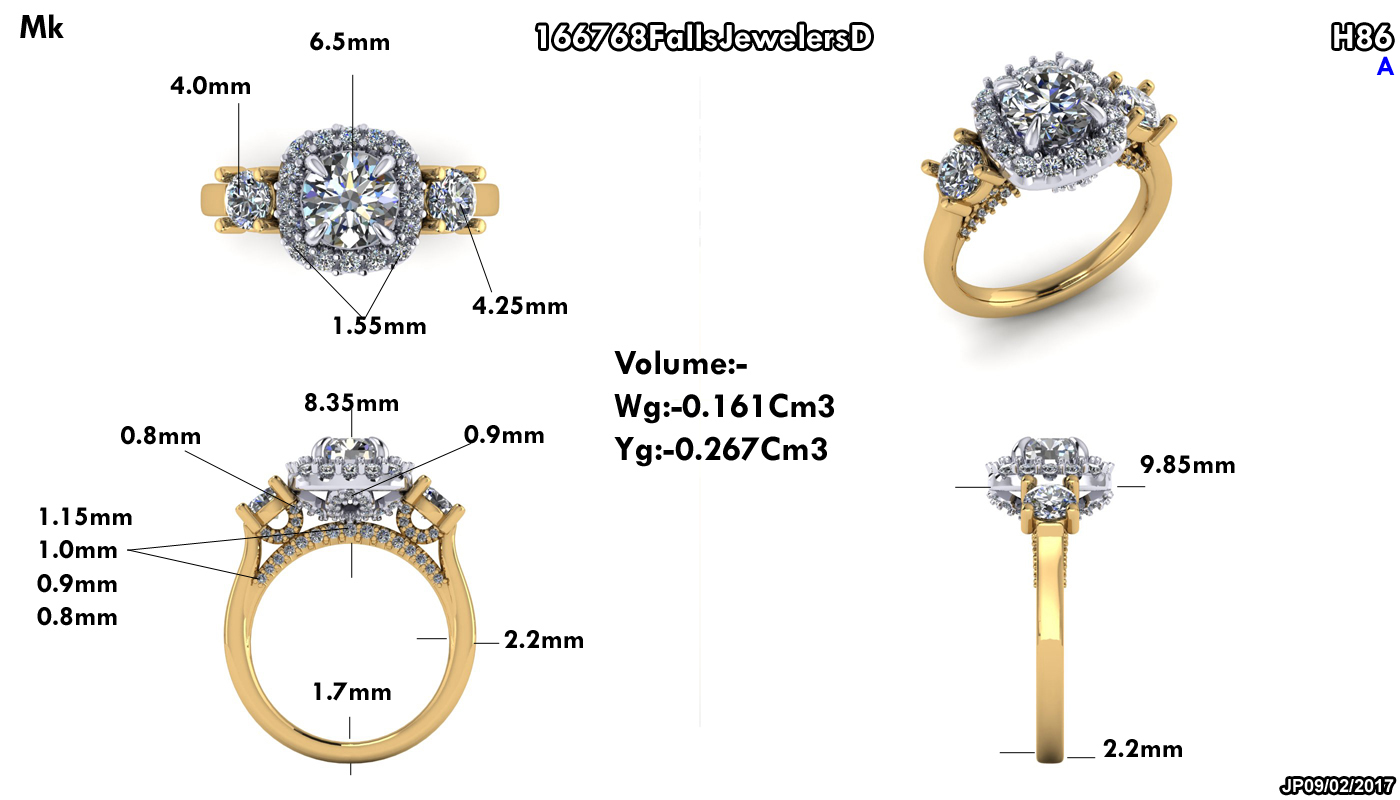 This was it. The perfect version of his custom ring!
Our customer approved this design of his CAD, and the next stage of the process began: casting.
The shank and two heads of the side stones were casted using our customer's yellow gold, and the center head was casted in white gold. Once this step was completed, the final step was accomplished here at Falls. Our jeweler set all 95 diamonds in the custom ring one-by-one by cutting seats for each stone, as well as securing each of the prongs surrounding each stone. Next, he sanded, high-polished, and cleaned the ring to give it its flawless, showcase finish.
Check out the final product below:
Customer review:
"Working with Falls Jewelers to create a custom engagement ring was an incredible experience that I will never forget. I simply went into the shop with pictures of engagement rings that I had in mind and they were able to bring my vision to life. The jewelers at Falls were quick and professional throughout the whole process, working hard to ensure the perfect engagement ring. The trustworthiness and professionalism of Falls Jewelers is unmatched and I look forward to doing business with them in the future."
other custom examples: