Engagement Stories
Engagement Stories
April 2018: Meet Matt and Alyssa!
THE LOOK: This lovely couple first laid eyes on each other at a Slip 'N Slide water park in New York where they attend college at Clarkson University. Shortly after, they began dating on their favorite holiday, St. Patty's Day, in 2015.
THE PROPOSAL: Alyssa works in Uptown Charlotte, where the big announcement took place. Matt reached out to Alyssa's boss and had her set up a fake meeting for a Friday morning on April 6th. During this "meeting," Alyssa was taken on a scavenger hunt at her work that ultimately ended in the lobby of her office building. To her surprise, Alyssa's sister was outside standing beside a horse drawn carriage where Alyssa was instructed to get in. After a short ride, Alyssa was brought to Romare Bearden Park where Matt was anxiously awaiting his soon-to-be-fiancé with a red rose and a gorgeous diamond ring!
THE RING: Matt knew that Alyssa really liked the styles and looks of Gabriel & Co.'s engagement rings, so he made note of her favorite characteristics of three different styles and meshed them all into one perfect ring! Alyssa's custom-made ring contains a stunning round brilliant diamond surrounded by a halo of diamonds as well as diamonds down both sides of the shank. It truly is a beautiful rock!
Congrats, Matt and Alyssa!
---
April 2018: Meet Nathan and Sydney!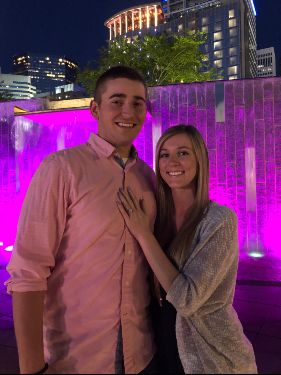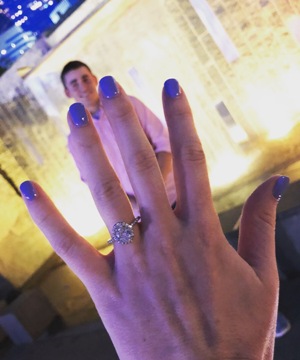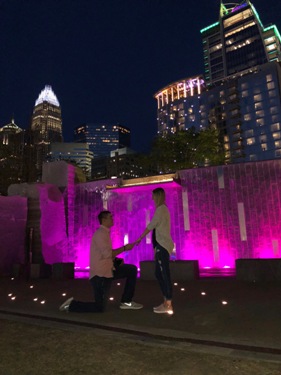 THE LOOK: Nathan and Sydney aren't your typical high-school sweethearts… they go back to the middle school days! This lovely couple first met in 6th grade at Corriher Lipe Middle School where their lockers were located side-by-side. From the very first day, Nathan and Sydney instantly became friends. They began "dating" in 8th grade, but the middle-school relationship didn't last. Fortunately, the two remained great friends in high school and began seeing each other seriously in March of 2012 during their junior year. Since then, Nathan and Sydney haven't look back.
THE PROPOSAL: The evening of April 14th began as a normal evening for Sydney. She thought her and Nathan were simply going out-to-dinner and then heading out to a party later that night. However, Nathan headed toward Charlotte after their meal, and Sydney had no idea why. He explained that he had a few places he wanted them to go to before the party that night. Little did she know, her life was about to change forever! Nathan took Sydney to Romare Bearden Park where the two of them walked around for a bit. When the time was right, he suggested they take a quick picture, and he pulled out a ring, got down on one knee, and asked the girl of his dreams to marry him.
THE RING: Nathan did his homework and gathered ideas on what Sydney liked for an engagement ring during the past few years of their relationship. He knew she loved an oval-shaped diamond, and wanted something that accented an oval beautifully. With some help from his grandmother and sister, he picked out a beautiful white gold diamond engagement ring with a gorgeous oval diamond surrounded by a halo of round brilliant diamonds. It looks incredible!
Congrats, Nathan and Sydney!
August 2017: Meet Preston and Carter!
THE LOOK:
THE PROPOSAL:
THE RING: