Custom Pieces
Custom Pieces
We can use a photograph, drawing, or just an idea to custom make a beautiful ring or pendant using your diamond and gold or ours. We send you an email preview so you can approve our design and then continue to make your beautiful, one of a kind piece of jewelry.
Below are 3 examples of rings that we have made recently: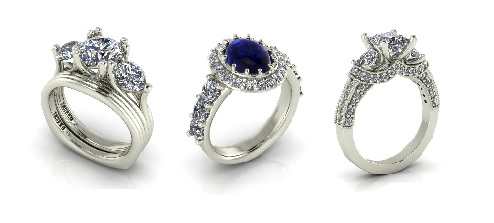 The Custom Design Process
We at Falls Jewelers wanted to show the process involved when working with a customer to create a completely custom design.
For this example the customer wanted a ring with a one carat oval diamond in the center and a halo of diamonds around it. She also wanted pear shaped diamonds just off the halo coming down each side of the shank. We then added four more diamonds on each side to finish about halfway down the shank.
The first picture below is the sketch we did while talking with the customer about what she was looking for. Though this sketch is very basic, we like to draw it out to make sure we are both on the same page.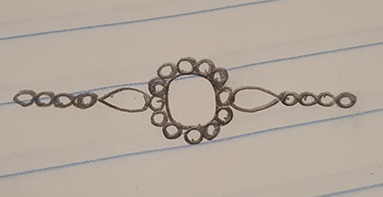 The next set of pictures represents the computer aided design (CAD) images. Because of this amazing technology we are able to show every customer what their design will look like after having created the 3D computer model. At this point we like to ask the customer to can make changes to the design they want. We want to make sure their piece looks exactly like what they have envisioned.
The next pictures are of the ring after it has been cast in 14K white gold. We call this a "raw" casting.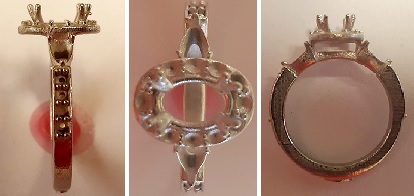 This customer chose a 1.00 carat oval diamond graded SI2 with G color and an excellent cut. It is a beautiful diamond and the diamonds in the halo and down the shank match beautifully with the center diamond.
These pictures are of the ring after the diamonds were set. It's pretty, right? But not finished...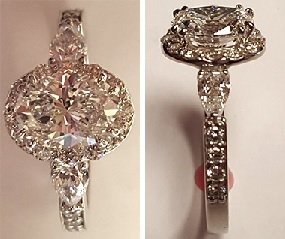 This customer also mentioned how she favors a vintage or antique look. She opted to have her ring hand engraved. We are blessed to have locally one of the best hand engravers in the country and his work speaks for itself.
Check out the final product...Beautiful!